Leaders for Climate Action: An Interview With Our CPO Lukas Zörner
"Penta is operating climate neutrally since 2020." Such is Penta's commitment to customers, employees, and society when it comes to sustainable banking.

Lukas Zörner, Chief Product Officer at Penta, has prioritised sustainable action and climate protection not only as part of the management team but also personally as a member of the Leaders for Climate Action (LFCA) initiative.
Lukas, What Is the Goal of LFCA?
Leaders for Climate Action is an initiative between digital companies to curb the climate crisis. It was launched in Berlin in 2019 with the goal of "making the entire digital industry climate neutral, influencing policy makers, enforcing a carbon price, and leading by example as an industry." (www.handelsblatt.com). Leaders for Climate Action now counts more than 1,500 members, including Personio, software giant Atlassian, our partner Raisin, and many other companies from more than 22 European countries.
Why Did You Become a Member of Leaders for Climate Action?
Environmental protection, responsible corporate governance, and high social standards are increasingly becoming non-negotiable in the way companies operate. Our stakeholders, employees, customers, and society as a whole rightly demand that we act sustainably as a company. In fact, we've been operating climate neutrally since 2020. As a company, we do not see ourselves as passengers on the path to a sustainable future – we want to drive this transition ourselves. To this end, we have anchored sustainability in our corporate vision and strategy and have already initiated concrete measures. For example, our digital infrastructure is already powered by 100% renewable energy and our Pentonians commute free of charge by public transport.

To further reduce our emissions in the long term, we are working with the carbon management software Planetly and have appointed a Climate Officer and Green Team to advance the transformation process.

However, there's only so much companies or the state can do when it comes to going green. We each have a personal responsibility as well. That's why I joined Leaders for Climate Action in October 2021.
Carbon neutral since 2020
Through a wide range of offsetting measures and support for sustainable projects, Penta is compen­sating for its carbon footprint retroactively for 2020. Further information on sustainability at Penta can be found
here
.
What Does It Mean for Members to Join This Initiative?
As members of Leaders for Climate Action, we commit to reducing our personal carbon footprint. This can be done by changing our travel habits, switching energy suppliers, or even adjusting our diet.

Beyond that, we are also committed to making our companies more climate-friendly and reducing their carbon emissions. Unfortunately, not all CO2 emissions can be avoided. But we can at least offset them by supporting climate protection projects with high compensation standards.
Like You Said, There Are Some Challenges. Which Procedure Would You Recommend?
It starts by gauging the company's carbon footprint, with a detailed survey of emission sources. The findings can then be used to identify how to reduce or avoid emissions. Most companies can easily switch to sustainable electricity or adopt a travel policy, whether by taking business trips by train or giving employees bikes or public transit passes for their daily commutes.

It can sometimes take more effort to demand the same standards from purchasing or supply partners. In many cases, it still requires a lot of persuasion. Every company should set itself ambitious reduction targets for the coming years and monitor its own success through periodic assessments. Tech companies could, for example, consider moving their cloud servers and web hosting to providers that use 100% sustainable energy.
Lukas Zörner
Lukas Zörner is among Penta's longest-serving team members and, as Chief Product Officer (CPO), shapes the company's product offering and ongoing development. Before starting at Penta, he founded the AI-driven fintech Mespo. Prior to that, Lukas spent several years at Morgan Stanley in investment banking. He studied in Mannheim and Moscow.
Truth Be Told, Lukas: Which Measures Are the Most Difficult for You Personally?
Changing my diet hasn't been a breeze. Some foods have a terrible carbon footprint, but doing without steak is tough.
You Are Well Connected in the Startup and Fintech Scene: What Advice Do You Have for Other Companies?
In general, every company and every leader in the digital industry must first be aware of the influence they have and then use this influence to support sustainable action and climate protection. One way to do this is to join and collaborate with LFCA to bring about change with other companies.

Business owners and managers can take many actions to reduce their or their companies' carbon footprint. First, they should realistically assess the current situation; second, they should document their emissions reduction in a transparent manner; and third, they should leverage further opportunities to avoid carbon emissions.

Just about every company and individual can rely on renewable energies, conserve resources and reduce waste, choose CO2-neutral service providers and suppliers who offer climate-friendly products or services, and/or modify travel habits.

In addition, every company should look at its own business model through a sustainability lens: Many products and services can be made sustainable. Penta's Bank Cards, for example, are made from 100% recycled PET-G plastic, and our packaging from grass paper.

And last but not least: Use your own reach to actively educate your customers, suppliers, service providers or business partners about climate protection.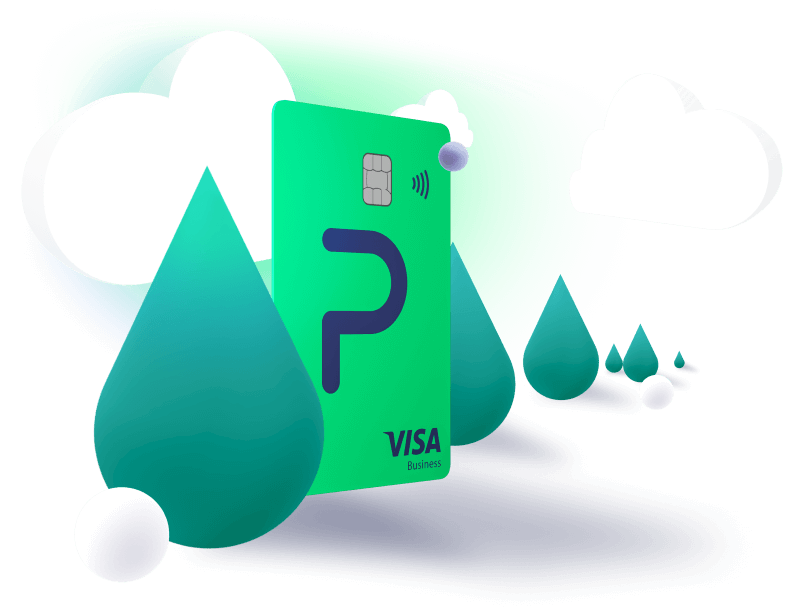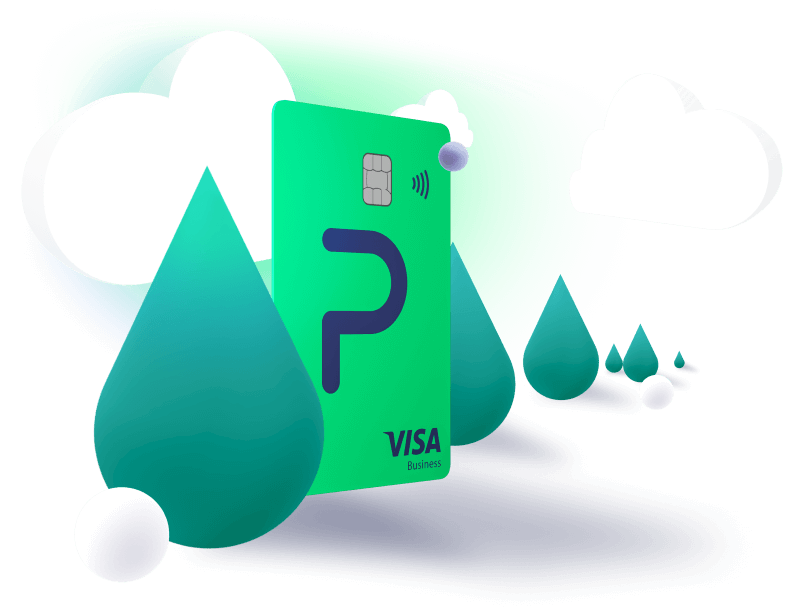 50% less emissions by 2025
This is the goal that Penta has set itself after reaching climate neutrality.